I've been getting a lot of books from the library recently, and a lot of them are YA recs I've seen on other blogs participating in Top Ten Tuesday or WWW Wednesday.  Since none of them have fulfilled my missing time periods for the When Are You Reading? Challenge, I originally wasn't going to post reviews for any of them, but I think that's doing a disservice to a genre that I have been trying to get back into after being burned by repetitive plots, love triangles, predictable storylines, etc.
Fair warning, there are spoilers, mostly in the discussion of tropes, archetypes, and cliches used.
Without further ado, a whirlwind tour of some newer YA fantasy:
The Young Elites by Marie Lu

I don't think I have ever before read a YA novel where the protagonist is so bound up in 'fear and fury'.  That's not to say there aren't any others out there, but it was a complete surprise for me to learn not only where Adelina's power came from and what strengthened it but also that this could be considered a good thing.  Not by some of the other characters in the book, but there were certainly hints that it wasn't necessarily a bad thing.  Further, because of Adelina's power source, this book felt a lot more intense than I was expecting.  Plus I wasn't expecting one of the twists at the end, which certainly made me question where Lu's going next with this story.  My major disappointment with this book was that it was in first person (past tense), but that's on me being sick of first person.  And Lu did manage to switch that up a bit with occasional jumps to third person (present tense) scenes with some of the male characters.  Overall, I enjoyed it and am looking forward to the next book in the series (which came out recently).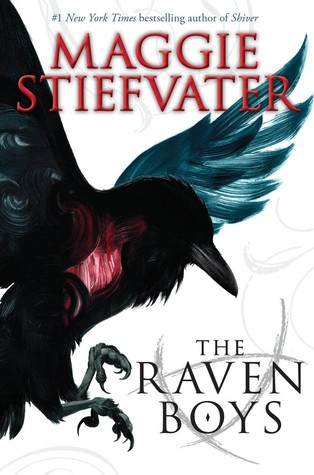 The Raven Boys by Maggie Stiefvater
Another huge surprise for me.  I knew from other people's comments that, despite the summary, this book at least was more about the friendships between the group than romance, but I wasn't sure I believed them.  The thing is, it was true.  Development of the ties between the boys and Blue – whatever direction those ties may go in – was more central than romance.  I can, however, see the set up for that to change in the future, which is already making me wince (sorry, Ms Stiefvater, it's a preconditioned response), but, again, I do plan to pick up book number two at some point because I love the psychics, the leylines, everything.  Although I will admit to hoping that a certain romantic plot does not go the way I fear it will.  On the other hand, yay third person with shifting 'narrators'.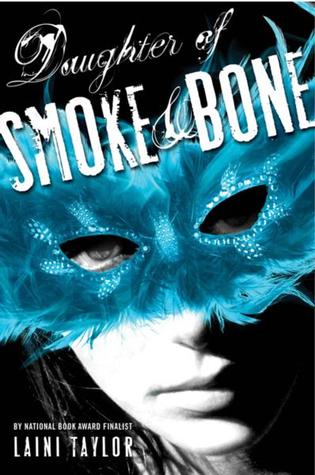 Daughter of Smoke and Bone by Laini Taylor
I'm still not sure how I feel about this book.  I mean, yes, I liked it, I want to read the next book, but on the other hand… I don't know, when I had to put it down for work, sleep, etc., it wasn't constantly on my mind.  I didn't feel the need to go back and pick it back up, ever, regardless of what part I was on.  There were a lot of not-surprises that I think were meant to be twists but didn't feel that way to me.  And I really wish I hadn't had to read about Madrigal's life.  Reincarnation romances just don't really do it for me, especially when it's only one person who reincarnated.  It feels…squicky.  But on the other hand, I love the world, the war, the dual-POV, the characters – oh man did I love the characters.  I want more of Brimstone, but I'm worried there won't be.  So yeah, if I was rating these, this would be a solid 3/5.  We'll see how the rest of the series goes.
Shadow and Bone by Leigh Bardugo
This is another book where I'm not sure how I feel about it, but I'm leaning towards not very impressed.  For me, one of the first problems in the book was the 'bait and switch' – the prologue is in a very interesting third person tone, but then the rest of the book switches to first person Alina (the MC) until the epilogue, when it goes back to the prologue's style.  The next problem was the problem I tend to have with first person narratives: I didn't particularly care for Alina.  The world was interesting – although I've read complaints about the Russian, but I don't have much knowledge of the language/culture so I'm  not going to touch that – and I liked parts of the overall story.  It was a quick read, too, but, like Daughter of Smoke and Bone, I found myself walking away from it easily enough when I had something else to do.  Also, unnecessary love triangle, although I suspect one person involved was using it to manipulate another person.  I'll be continuing with the series, but I'm not sure if that's because I'm interested in where the story goes or because I heard that Bardugo's latest book, Six of Crows (which sounds really interesting), doesn't make sense without reading the trilogy.
The Girl at Midnight by Melissa Grey
Maybe it's because I read this just after finishing Daughter of Smoke and Bone or maybe I would have noticed it either way, but this feels A LOT like Daughter of Smoke and Bone: multi-POV; two races, 'demonic' and 'angelic' in looks but not in name, at war; a supposedly human girl caught between the two; a magical mentor/parental figure from one of the races and a romantic interest from the other – and a reincarnation romance.  I'm not sure I've said this before on this blog, but I'm not a huge fan of reincarnation romances.  Especially when only one of the couple reincarnated after dying.  It makes the whole romance feel forced, and I have to wonder if the surviving member loves the reincarnation or the incarnation, if the reincarnated partner feels forced by the memories of his/her (usually her) past incarnation, etc, etc.
On the other hand… I liked this one more than I liked Daughter of Smoke and Bone. …Oops?  For some reason, I couldn't put this one down and I resented when I had to walk away from it to do something else.  And, again, I love the characters and the world.  Although, again, lots of not-surprises.  But I think I like the relationships – mother/daughter, sibling, friend – better.  The romantic stuff – eh, the juries out, we'll see how it's handled when the second book comes out next June.  But I thought there was more time devoted to non-romantic relationships in this one than in Daughter of Smoke and Bone AND that they were handled better.
So, final decision: continuing all five series, but only three of the books get "I genuinely liked this".  On the other hand, the two books get "I have no clue????", so I'm not doing too shabby so far.
There will be a part 2 (and part 3, and so on) once I've gone through another five or so books, including some sequels for some of these.
Have you read any of these books?  What did you think?