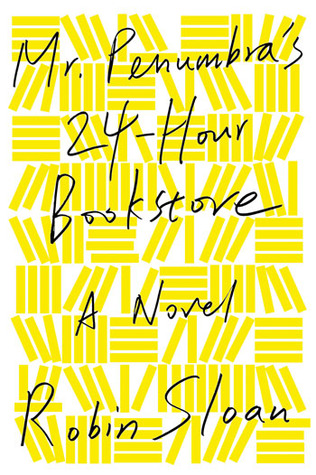 Mr. Penumbra's 24-Hour Bookstore by Robin Sloan
Summary from GoodReads:
The Great Recession has shuffled Clay Jannon away from life as a San Francisco web-design drone and into the aisles of Mr. Penumbra's 24-Hour Bookstore. But after a few days on the job, Clay discovers that the store is more curious than either its name or its gnomic owner might suggest. The bookstore's secrets extend far beyond its walls.
This book starts out kind of slow, or at least it felt that way for me.  We are introduced to the characters one at a time, with whole chapters dedicated to showing us about some of them.  And, of course, there's the mystery of the bookstore, which we see in drips and drabs throughout the entire first part of the novel.
And then, in the second part, things finally start to pick up.  We learn about the secrets behind the bookstore, we meet the 'antagonist', and we see more of the why behind Mr. Penumbra.
But it wasn't until the final part of the book that I felt things actually happened at an interesting pace, with things happening one right after the other.
If you're not a patient reader, you might put this book down during the first part, and that would be a shame.  Because this book is about a philosophy, one that I think writers especially can understand and get behind, but you have to take the whole journey in order to see the philosophy unfold for the characters in this book.
This isn't a page-turner until the end.  And the characters aren't the most memorable (except for maybe Mr. Penumbra).  But the way they each approach the philosophical question at the heart of this novel and the answer to an age-old question that is provided at the end is what makes this book worth reading.
In sum, 4 out of 5 stars, because I like philosophical books sometimes.