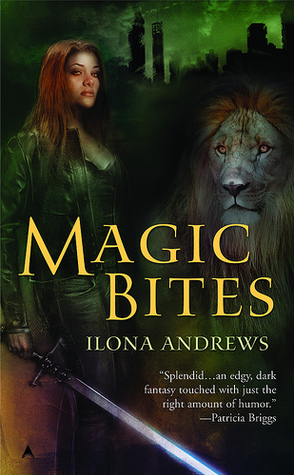 Magic Bites by Ilona Andrews
Synopsis from GoodReads:Atlanta would be a nice place to live, if it weren't for the magic…
When the magic is up, rogue mages cast their spells and monsters appear, while guns refuse to fire and cars fail to start. But then technology returns, and the magic recedes as unpredictably as it arose, leaving all kinds of paranormal problems in its wake.
Kate Daniels is a down-on-her-luck mercenary who makes her living cleaning up these magical problems. But when Kate's guardian is murdered, her quest for justice draws her into a power struggle between two strong factions within Atlanta's magic circles.
The Masters of the Dead, necromancers who can control vampires, and the Pack, a paramilitary clan of shapechangers, blame each other for a series of bizarre killings—and the death of Kate's guardian may be part of the same mystery. Pressured by both sides to find the killer, Kate realizes she's way out of her league—but she wouldn't have it any other way…
I'm not really sure what to make of this book, for several different reasons.  So, my thoughts are kind of all over the place.  Sorry for the lack of clarity you'll find below.
This is the first book in a series, and I can already see where the romance is going to go.  Now, that's not necessarily a problem if you like the romance being presented.  Unfortunately, if my prediction is correct, then this is heading towards not just an imbalanced relationship (which I can deal with in urban fantasy because I have yet to find an UF read without power issues) but possibly towards a slightly abusive one.
I don't use that term lightly.  The issues I have stem from several different points.  First, Curren (the putative LI, if I'm reading this right based on other UF books and tropes) is verbally demeaning towards Kate.  He accuses her of being a glory-hog when there is plenty of evidence to the contrary and later he refuses to stop and listen to her hesitations which leads to them accusing the wrong guy of being evil which leads to Curren and everyone else blaming Kate for pointing them at an innocent, leading even Kate to doubt and blame herself.  On top of this, he throws her into a confrontation with several of his minions (all of them shapeshifters) in which she has to defend herself without physically hurting them and then yells at her for her chosen method of defense when he basically backed her into a corner by feeding her head first to the lions (pun intended, to those of you who've read this series).  He's also physically stronger than her – never mind her training or magic weapon, she acknowledges in her head at least once that he's stronger than her – and attempts to choke her at one point.
On the other hand, this felt like a fast-paced read.  I devoured this book in the course of a day, impressively enough, without feeling the need to put it down and walk away from it.  It's a relatively quick read with a fake climax that feels like a fake climax.  I'm not sure the authors were able to adequately recover from that, however, as the actual climax never felt like a real climax, either.
It was also hard to connect to the characters.  A lot of them felt like they had depth but then we never got to see that depth for a lot of them.  I'm hoping that later books in the series will address this, because there were several characters that I want to like – Mahon, Jennifer, and Nick stand out.
Unfortunately, protagonist Kate is among the characters who fell flat for me.  Like many P.I.s in fiction, she is a prickly loner with a capital-P-Past.  And make no mistake, despite the Urban Fantasy genre this novel crosses into thriller genre, leading to a protagonist we've all seen before.  Again, I'm hoping to see more sides to her in later books, but I really feel like the authors missed out big time here.  They could've shown us her grief over Greg's death or more panic over Derek later on in the book, but no dice.  I'll give her points for moments of maturity, but I really want to see more emotional range and depth.
On top of that, even though this is the first book it reads like a second.  On the one hand, I appreciate that because I don't like info-dumps and I like knowing that the characters didn't appear just for the sake of the start of this novel.  On the other hand, it feels like there are a lot of gaps that I feel could've been addressed.  For example, why does Jim sometimes work with Kate?  Do other shapeshifters or other supernaturals work for the Guild?  Can't we get some more information on the world beyond magic-waves and tech-waves alternate and the magic-waves destroy modern-day tech stuff?
What this all boils down to is that I didn't especially like the book – but I still devoured it with the fervor I usually reserve for books I love.  These conflicted feelings mean I'm giving the series at least two more shots to wow me.  Normally, I would've said one, but I can only find Magic Burns, book 2, as an audio-book, and I have a love-hate relationship with those all on their own, so I don't think it would be fair to make a judgment call based on an audio-book.  So two more shots to impress me.  Or at least convince me to keep turning pages.
2.5 out of 5 stars.