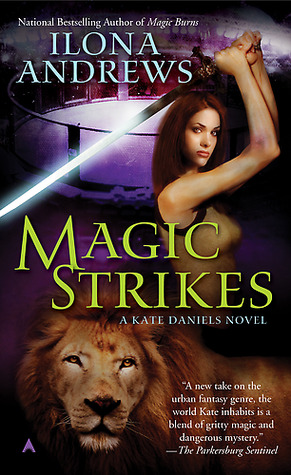 Magic Strikes by Ilona Andrews (narrated by Renèe Raudman)
Synopsis from GoodReads:
When magic strikes and Atlanta goes to pieces, it's a job for Kate Daniels…
Drafted to work for the Order of Knights of Merciful Aid, mercenary Kate Daniels has more paranormal problems these days than she knows what to do with. And in Atlanta, where magic comes and goes like the tide, that's saying a lot.
But when Kate's werewolf friend Derek is discovered nearly dead, she must confront her greatest challenge yet. As her investigation leads her to the Midnight Games—an invitation-only, no-holds-barred, ultimate preternatural fighting tournament—she and Curran, the Lord of the Beasts, uncover a dark plot that may forever alter the face of Atlanta's shapeshifting community…
I'm starting to wonder why I'm still reading – well, listening to – this series.  I was hoping for urban fantasy and I'm getting paranormal romance, which, well, yes, I knew it was coming but not like this!
On the plus side, there are still giggle-worthy moments, some of the side characters are still great fun, and the plot and world are very engaging.
On the down side… Kate is making stupid decisions, shapeshifters are being forgiven for shit simply because they're shapeshifters (I'm looking at you, Jim and Curran), and the attraction/romance still seems to be coming out of nowhere even as it's ramping up.  And it doesn't help that I'm not really a fan of the way Raudman is reading certain characters.  Her rendition of Dali in particular is grating.
I'm still not at the point where I'm ready to give up, which might be because I'm a glutton for punishment – or it might be because there's still something salvageable in this mess.  Either way, I'm apparently moving on to Magic Bleeds, if only to see how the brewing confrontation with Roland goes down.
2.5 out of 5 stars.