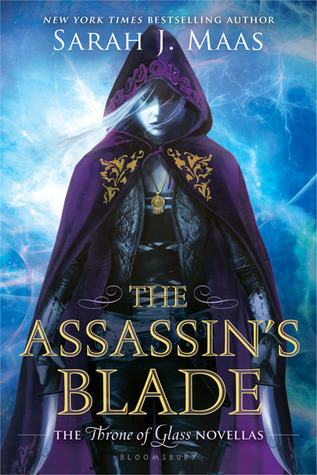 The Assassin's Blade by Sarah J. Maas
Synopsis from GoodReads
Celaena Sardothien is Adarlan's most feared assassin. As part of the Assassin's Guild, her allegiance is to her master, Arobynn Hamel, yet Celaena listens to no one and trusts only her fellow killer-for-hire, Sam. In these action-packed novellas – together in one edition for the first time – Celaena embarks on five daring missions. They take her from remote islands to hostile deserts, where she fights to liberate slaves and seeks to avenge the tyrannous. But she is acting against Arobynn's orders and could suffer an unimaginable punishment for such treachery. Will Celaena ever be truly free? Explore the dark underworld of this kick-ass heroine to find out.
With this set of short stories, we go back in time, to when Aelin was Celaena.  And with that turn back in time comes a return to some of her more unlikable qualities.  The ones that didn't stick with her to continue her walk down the fine line between likable and unlikable.
I'm not saying she's not sympathetic, because she is.  But sympathetic doesn't equate to perfect.  Especially not when it comes to some of Celaena's less endearing traits – spoiled, sulky, and full of herself, to name a few.
I did enjoy reading about some of her backstory, filling in the cracks of the time between becoming 'Adarlan's Assassin' and being sent to Endovier.  It was interesting to get a glimpse of Lysandra, to see some of the history between her and Aelin that gets mentioned in the main series.  And, of course, it was really good to be able to put backgrounds to faces and names from the end of the fifth book, where a lot of these characters pop up out of nowhere with not much explanation.  To say nothing of finally getting to see Sam.
On the other hand, Celaena had too many of her unlikable qualities on full display.  Yes, I know that she gets a lot of character development – I've read it, after all – but that doesn't help me any when I'm reading this collection.  Although we do also get to see seeds of compassion, especially in the first three stories, but overall Celaena is not Aelin, and that's a problem for me because it's Aelin whom I've come to sympathize with and actually like.
Overall though, an enjoyable enough – and fairly quick – read.
3.5 stars.