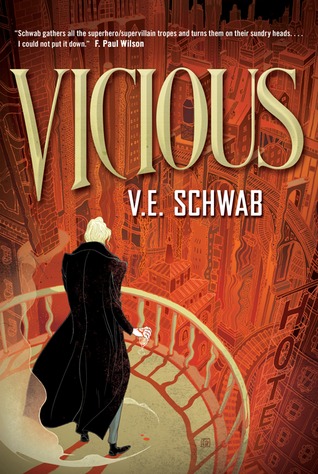 Vicious by V.E. Schwab
Synopsis from GoodReads:
Victor and Eli started out as college roommates—brilliant, arrogant, lonely boys who recognized the same sharpness and ambition in each other. In their senior year, a shared research interest in adrenaline, near-death experiences, and seemingly supernatural events reveals an intriguing possibility: that under the right conditions, someone could develop extraordinary abilities. But when their thesis moves from the academic to the experimental, things go horribly wrong. Ten years later, Victor breaks out of prison, determined to catch up to his old friend (now foe), aided by a young girl whose reserved nature obscures a stunning ability. Meanwhile, Eli is on a mission to eradicate every other super-powered person that he can find—aside from his sidekick, an enigmatic woman with an unbreakable will. Armed with terrible power on both sides, driven by the memory of betrayal and loss, the archnemeses have set a course for revenge—but who will be left alive at the end?
From start to finish, Vicious is an intense novel.  I had to take a couple breaks while reading it due to work, but it was constantly on my mind.  Schwab's writing is fast-paced and descriptive, with short, sharp sentences to help ramp up the tension.
The main part of Vicious takes place over the course of three days, with flashbacks scattered throughout, mostly to ten years ago when Eli and Victor were in college together.  These flashbacks help flesh out what is happening in the present while providing, in part one, the missing pieces to what exactly happened and, in part two, what exactly both of them have been up to, as well as filling in the gaps for the other three viewpoint characters (Serena, Sydney, and Mitch).
The first half of the book had more scenes from Victor's perspective while the second half had more from Eli's, or so it felt to me, with Mitch and Serena also getting more of a say in part two and Sydney having an equal say in both.  I think that's so that Victor's plan remains a secret from the reader, as well as so we can truly see just what is up with all of these crazy people.
Yes, crazy.  Not a single character in this novel is sane or stable.  In fact, even though I found Victor to be more sympathetic than Eli, I didn't particularly like him nor did I root for him beyond him stopping Eli from killing everyone.  Honestly, the title of the novel, Vicious, applies to both Victor and Eli, at least in my opinion, both before and after they get superpowers.  This does not, however, lessen the characters themselves, as all were quite believable in different ways, and all were clearly fully formed, containing the paradoxes that real humans do and fictional characters so rarely manage.
The psychological aspects tied into the characters' narratives are fascinating, and they certainly made me think a bit harder about how other super heroes are portrayed in various media.
If you like Schwab's other work or simply want to pick up a stand-alone to give her a shot, I highly recommend Vicious.  (Although apparently it's getting a sequel, even though it feels like a stand-alone to me)
4.5 out of 5 stars.  This novel was phenomenal, but my inability to firmly attach to any character is preventing me from giving it a 5, unfortunately.