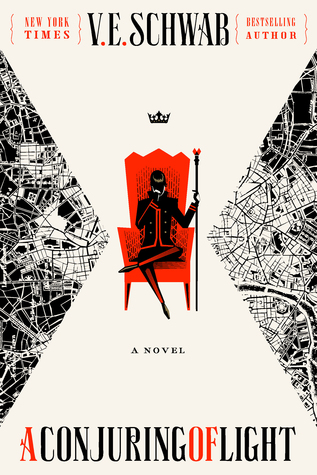 A Conjuring of Light by V.E. Schwab
Synopsis from GoodReads:
Witness the fate of beloved heroes – and enemies.
THE BALANCE OF POWER HAS FINALLY TIPPED…
The precarious equilibrium among four Londons has reached its breaking point. Once brimming with the red vivacity of magic, darkness casts a shadow over the Maresh Empire, leaving a space for another London to rise.
WHO WILL CRUMBLE?
Kell – once assumed to be the last surviving Antari – begins to waver under the pressure of competing loyalties. And in the wake of tragedy, can Arnes survive?
WHO WILL RISE?
Lila Bard, once a commonplace – but never common – thief, has survived and flourished through a series of magical trials. But now she must learn to control the magic, before it bleeds her dry. Meanwhile, the disgraced Captain Alucard Emery of the Night Spire collects his crew, attempting a race against time to acquire the impossible.
WHO WILL TAKE CONTROL?
And an ancient enemy returns to claim a crown while a fallen hero tries to save a world in decay.
Wow.  Just. Wow.  The first, oh, half of this novel or so just didn't stop.  No breathing room.  Which was good, because I really needed something to immerse myself in the morning that I finally got my hands on a copy.  It took a while for me to find a good place to come up for air – and a glass of water – and then I dove back in, albeit at a gentler pace for a few sections.
If you enjoyed the first two books in the series, you will love A Conjuring of Light.  It delivers almost everything the series promised, with appearances from all of the characters you've come to love or hate.  With perspective from Lila, Kell, Rhy, Alucard (finally), Holland, Ojka, the king and queen, and so many others, in this final installment of the trilogy we get so many, many answers.
But we're also left with questions and unsolved mysteries.  Which, yes, is the way any good book should end, in my opinion, but there was one subplot that I really felt should have been wrapped up a little bit more, and that's Kell's relationship with the king and queen.  I didn't feel like anything was solved or answered, beyond some of the king and queen's motivations.  So if you're reading for that, you'll be disappointed, I suppose.
Otherwise, however, I mostly enjoyed how things went down (not mentioning certain things to avoid spoilers because, well, the book has barely been out like a month), and I definitely felt a roller coaster of emotions.
I still feel that the first book in this series was the strongest, but all three delivered on emotions, action, and sheer witty banter.
5 out of 5 stars, will most certainly read again.
(Lila Bard is awesome, end of story)