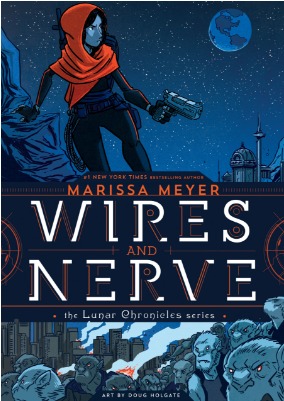 Wires and Nerve Volume 1 by Marissa Meyer
Synopsis from GoodReads:
In her first graphic novel, #1 New York Times and USA Today bestseller Marissa Meyer follows Iko, the beloved android from the Lunar Chronicles, on a dangerous and romantic new adventure — with a little help from Cinder and the Lunar team.
In her first graphic novel, bestselling author Marissa Meyer extends the world of the Lunar Chronicles with a brand-new, action-packed story about Iko, the android with a heart of (mechanized) gold. When rogue packs of wolf-hybrid soldiers threaten the tenuous peace alliance between Earth and Luna, Iko takes it upon herself to hunt down the soldiers' leader. She is soon working with a handsome royal guard who forces her to question everything she knows about love, loyalty, and her own humanity. With appearances by Cinder and the rest of the Rampion crew, this is a must-have for fans of the bestselling series.
I happened to see this graphic novel at the library and, well, I'd been meaning to read it, so I picked it up.  And then proceeded to devour it in about 30 minutes.  WARNING! This review contains minor SPOILERS for the end of the Lunar Chronicles (basically just where people ended up).  Be warned!
As you can probably guess, I enjoyed Wires and Nerve.  Oh, sure, it helps that it's a fast read, but I did really enjoy getting to see more of Iko, reading about what happened with the wolf-mutant Lunar soldiers on Earth after the rebellion, and seeing more of how Lunar deals with Cinder, both as queen and as, well, revolutionary, given what she proposes.
Despite the different medium, Meyer's work remains enjoyable.  Probably the best part is the banter, between friends, lovers, and enemies alike.  Meyer's dialogue is fantastic and helps bring the story to life, just like the series' novels did.
Unfortunately, however, switching to a graphic novel got rid of Meyer's prose.  Yes, her descriptions are replaced by images, but we lose her narrative voice, which I for one certainly missed.  It's replaced by a distant first person (Iko's voice), which is somewhat typical for graphic novels, and I didn't dislike it.  But reading this helped me realize just how much I love Meyer's prose.
Also on the list of things I didn't dislike but also didn't really work for me is the art style itself.  It's not bad, but it was kind of just there.  And, of course, there's the usual complaint you hear at books-turned-movies of 'but that's not how I pictured X!'  Which could just be me being picky, but that did throw me for a while, although we do get a nice intro to what everyone looks like in the art style in the 'prologue' (a few pages placed before the official title page).
Overall, though, I really loved Wires and Nerve.  Iko gets to really come into her own, and everyone else has made at least minor appearances.  My main complaint is probably that I have to wait a year for volume 2!
4 out of 5 stars, and definitely looking forward to the release of volume 2 in 2018.