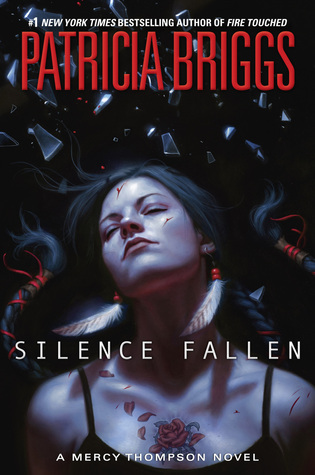 Silence Fallen by Patricia Briggs
WARNING! This is a long-running series, so the summary below (and the review itself) will have minor-to-major spoilers about earlier installments in the series!
Synopsis from GoodReads:
Attacked and abducted in her home territory, Mercy finds herself in the clutches of the most powerful vampire in the world, taken as a weapon to use against alpha werewolf Adam and the ruler of the Tri-Cities vampires. In coyote form, Mercy escapes only to find herself without money, without clothing, and alone in the heart of Europe…
Unable to contact Adam and the rest of the pack, Mercy has allies to find and enemies to fight, and she needs to figure out which is which. Ancient powers stir, and Mercy must be her agile best to avoid causing a war between vampires and werewolves, and between werewolves and werewolves. And in the heart of the ancient city of Prague, old ghosts rise…
I love the Mercy Thompson series.  It's one of the few long-running first person series that I actually like (if not the only one), helped along by the fact that Mercy is a) her own person, b) snarky, and c) someone I actually like and sympathize with, which is rare for me and first person narrators (and arguably the most crucial component for likability when it comes to me).
The problem with MT is the same problem that a lot of UF series have: how do you keep jacking up the intensity/danger when your protagonist is (usually) one of the squishier supernatural critters in the 'verse?  The answer usually involves giving them more power.  Which, in Mercy's case, actually works because until a couple books ago she'd never met another walker, so everything she knew about herself was trial-and-error, self-discovery – plus some hearsay from various other characters.  There are two other ways Mercy has gained power over the series, but both of them are interesting and make sense (Adam and the walking stick, and if you don't know what I mean then, well: spoilers, Martha!).
The other answer to the stakes issue is to have 'breather episodes' where a less-dangerous enemy shows up.  Silence Fallen does not do that.  Instead, we are presented with several dangerous enemies, almost none of whom are working together, and then several different 'disposal methods', including but not limited to diplomacy, the enemy-of-my-enemy-is-my-temporary-ally, and, of course, the ever popular fight-to-the-death.  I found it interesting exactly how everything was handled, actually, because of the politics involved.  The end results all made sense and go along with the rest of the world-building both in the series so far and in sister series Alpha and Omega.  On top of which, the ending means that the important status quo is maintained and the next book doesn't have to start off with even higher stakes/a greater sense of DOOM, DOOM EVERYWHERE.
I loved the expansion of the world in this novel, as well as the development of several characters.  Part of this was only possible thanks to having almost every other chapter switch between 1st-person Mercy and 3rd-person Adam.  This meant we got to see Marsilia, for example, interact with Adam, which gives us a much different look at her considering her and Mercy's antagonistic relationship.  Among other equally entertaining interactions.
And I can't end this review without talking about the setting: Prague.  Now, I've never been but Briggs brings the city – especially the Jewish Quarter – to life.  She's completely respectful of the myth she uses and it was so very easy to see the legend, the streets, and the buildings that made up the parts of Prague Mercy visited.
One minor quibble: the Vlatva Pack.  Namely, how come we didn't hear about them all the way back in Hunting Ground?  Well, I can make a couple of guesses – either they hadn't been created yet OR Anna wouldn't have known to ask about them (but then wouldn't Charles (or anyone else) consider Libor as a counter-balance to Chastain?) – but it does still bother me that they haven't come up before now.  Although now there are TWO werewolves in Adam's pack whom I have a lot of questions about (I was already curious about Sherwood Post after Fire Touched; now I want to know a lot more about Zack Drummond).
Overall 4 out of 5 stars, another great entry in the Mercy Thompson series.