Crooked Kingdom (Six of Crows #2) by Leigh Bardugo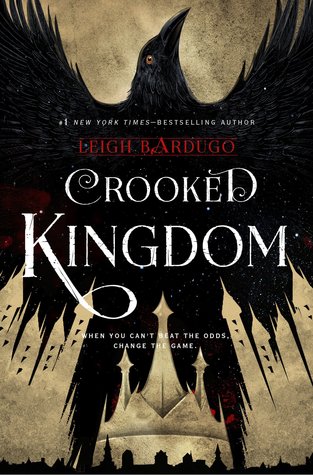 YES.  THAT is how you write a sequel!  Summary – with minor spoilers for book 1's end – below the cut.
From GoodReads:
Kaz Brekker and his crew have just pulled off a heist so daring even they didn't think they'd survive. But instead of divvying up a fat reward, they're right back to fighting for their lives. Double-crossed and badly weakened, the crew is low on resources, allies, and hope. As powerful forces from around the world descend on Ketterdam to root out the secrets of the dangerous drug known as jurda parem, old rivals and new enemies emerge to challenge Kaz's cunning and test the team's fragile loyalties. A war will be waged on the city's dark and twisting streets―a battle for revenge and redemption that will decide the fate of the Grisha world.
To me, the Six of Crows duology proves that a) authors DO grow as they write more and b) not liking one series by an author doesn't mean I won't like another (the reverse is also, of course, true but I already knew that one).
I have to start out with that because I didn't really like the Grisha trilogy, Bardugo's first series and the 'prequel' (of sorts) to this one.  Apparently I read the trilogy and Six of Crows for the first time back in 2016 – and then just never got around to picking up Crooked Kingdom.  I do feel very bad about that, honest.  Especially because the first book ends on such a gripping cliffhanger.
One of my major complaints about the first book was apparently that I disliked the way there was a lot more romance than I expected going in, with everyone in the core group being romantically or sexually (or both) interested in some other member of the group.  On my reread this bothered me much less and it didn't bother me at all during Crooked Kingdom.  I think the main reason it bothered me originally was that I had expected more buddy-buddy relationships than romantic ones, and while there were both in the first book the budding romantic relationships often seemed to take center stage when we saw relationships happening instead of crime.
Not so in this book.  I fully believed that I was witnessing a group of friends this time around.  That might be why it bothered me less (as well as the fact that I knew it was coming and that, as I stated in my review for SoC, I believed in and liked the developing relationships).  The way I got to see everyone come together and pull through for each other was just great.
Also, yay we got Wylan's POV!  I have a pretty good idea why Bardugo chose not to let us see inside his head in book 1 considering everything, but I love that she opened him up, so to speak, in CK.  And, like in the previous novel, I never once had any trouble with the POV shifts.  Bardugo very skillfully keeps all six voices different.
Well, I say six but both SoC and CK open and close with 'other' voices while otherwise showing us only what the six main characters know, think, see, and do.  This can be frustrating in some cases (for example I want to know very badly what happened to that Fjerdan boy towards the end) but it keeps things moving along and really helped me feel like I was part of the team.
Possibly my favorite part about this duology as a whole, however, is probably a line that comes towards the end of CK:
"She would fight for him, but she could not heal him. She would not waste her life trying."
I just think that's such an important lesson to learn and I'm so glad that we see it, especially in a novel whose main characters are, well, criminals.  Honestly, in this world, most of us would consider them bad guys.  Villains.  Possibly sociopaths in a couple of specific cases.  So it's very nice to see this sentiment.  Not just for the characters but for anyone reading it.
5 out of 5 stars.  I love this duology.  HIGHLY recommended!
*Although I will admit that you probably need to read at least a detailed summary of the Grisha trilogy (or a who's who summation) for a decent amount of this second book to make sense considering the characters who show up.