the princess saves herself in this one by Amanda Lovelace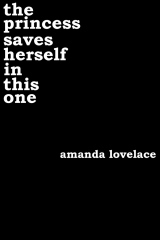 An absolutely stunning collection of poetry that spoke right to my heart and ambushed me with more emotions than I know what to do with.
Synopsis from GoodReads:
"Ah, life- the thing that happens to us while we're off somewhere else blowing on dandelions & wishing ourselves into the pages of our favorite fairy tales."
A poetry collection divided into four different parts: the princess, the damsel, the queen, & you. the princess, the damsel, & the queen piece together the life of the author in three stages, while you serves as a note to the reader & all of humankind. Explores life & all of its love, loss, grief, healing, empowerment, & inspirations.
I've been seeing Amanda Lovelace's poems – and excerpts from them – for a couple years now and I was very excited to finally pick up her first published collection.
When I read poetry, I'm looking for an evocation of some emotion.  I don't care if the poet uses lots of words or almost no words, if they're trying to paint an image or something else – I want an emotional response to whatever they've written.  And for me, almost every one of the poems in this collection did that.  Across all four parts of the novel I found myself tearing up, getting angry, smiling – something.  Regardless of how long or short, never mind the formatting – I felt something.
For me, that's enough.  But I also liked the format of her poems, with the title coming at the end.  Sometimes that gave the poem a sting and sometimes it smoothed over a harsher mood and sometimes it gave a feeling to a poem I otherwise didn't emotionally connect with.
As for the minimalist formatting where there's very few words to a line, I didn't mind it.  It didn't always 'work' for me – there were times when I would have preferred to see the poem as a single line or two instead of fifteen or more – but it also didn't particularly bother me.  And sometimes I thought it worked very well, such as when she had the word 'pouring' spread out in a diagonal across and down the page.
Overall, 5 stars.  This is exactly what I wanted out of a poetry collection.
Fair warning: if you don't like minimalist poetry then give this one a hard pass.  Lovelace's poetry stays on that side of the scale the whole time.  You've been warned.