Beneath the Sugar Sky (Wayward Children #3) by Seanan McGuire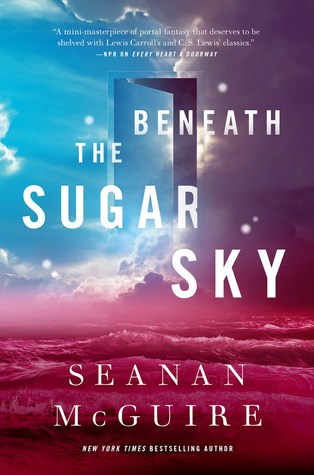 Another great entry in a great novella series!  And how lovely to see some characters from prior novels again.
Synopsis from GoodReads:
Beneath the Sugar Sky returns to Eleanor West's Home for Wayward Children. At this magical boarding school, children who have experienced fantasy adventures are reintroduced to the "real" world.
Sumi died years before her prophesied daughter Rini could be born. Rini was born anyway, and now she's trying to bring her mother back from a world without magic.
The first novella in this series, Every Heart a Doorway, introduced us to the concept of axes that delineate what a world is – where does it fall between Virtue and Wicked, Rhyme and Reason, Nonsense and Logic.  From that first book, we knew that Sumi went to a Nonsense world, so it really shouldn't surprise anyone that said Nonsense world – Confection – doesn't really care about the logical rules of our world.
Unlike book 2, which was a prequel detailing Jack and Jill's trip to the Moors, Beneath the Sugar Sky takes place somewhere between a couple months to a few years after book 1 and returns us to 'our world' and Eleanor West's Home for Wayward Children before taking us on a bit of a journey to bring Sumi back to life.
The question of magic working in our world has been a bit of a sticky one throughout the previous two books.  There has to be enough magic for the doors to appear – but is there enough magic to do anything else?  Not only does BtSS answer this question but it addresses more of the way the worlds interact, how the compass works, and why some doors re-open and others don't.
Where book 1 followed Nancy and a couple of others (although arguably was more about Jack than the main viewpoint character, Nancy) and book 2 was about the twins, book 3 is even more of an ensemble adventure.  Not only do we get a whole cast going on an adventure but none of them really felt like 'the' main character.  And not only because most of them don't get to go back to their worlds.  Yet.
This book excels in showing just how much thought McGuire has put into this 'verse and the worlds that make it up.  We see two worlds only previously heard about and get a lot more information about quite a few others, some of which are completely new and some of which we've at least heard about before now.  Combine that with some of the theories presented in this book about how the worlds interact and are created – it was probably my favorite part, and that's in a book with plenty of snarky dialogue.
And, of course, a narrator willing to comment on narrative elements and characters who don't all fit within the straight-white-thin-able-bodied mold.  So much love for this series.
If you like fairy tells or Alice in Wonderland or Narnia, consider giving this wonderful series a try.  Bonus: they're all short, so they don't take a lot of time to read.
5 out of 5 stars yet again.  I cannot wait for the next installment!