the witch doesn't burn in this one by Amanda Lovelace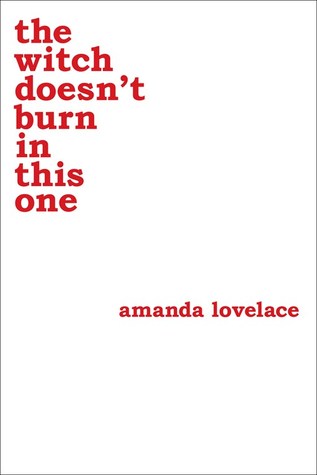 Another evocative collection of minimalist poetry.
Synopsis from GoodReads:
The witch: supernaturally powerful, inscrutably independent, and now—indestructible. These moving, relatable poems encourage resilience and embolden women to take control of their own stories. Enemies try to judge, oppress, and marginalize her, but the witch doesn't burn in this one.
After reading Lovelace's first collection a couple weeks ago, I knew I wanted to get my hands on the second volume of her poetry.  And, as with the first volume, I wasn't disappointed.
If you've read my other reviews of poetry, you know that what I want from poems is an emotional response.  Either through words or imagery, I'm not picky.  I just want to feel something.  And once again, Lovelace delivered – for the most part.
I felt that there were a greater number of poems in the witch doesn't burn in this one that didn't speak to me, personally.  Maybe that's because this one felt a bit more…politicized, I guess?  I don't know if that's what it was, but while I still eagerly sped through the collection I felt like it was less of a roller coaster for my emotional state, and that made me think more analytically about the poetry rather than feeling it, the way I prefer.
However, having now read her first volume in physical format, I wish I had read this one the same way.  I appreciate e-books for their convenience, but they don't do formatting very well and I learned from reading the princess saves herself in this one as a physical book (after first reading it as an e-book) that they really screw over Lovelace's formatting.  Her minimalist style still comes through in the words and how they're separated within each individual poem, but they're not completely separated the way they should be.  So if possible, definitely pick up a physical copy!
4 stars – still very good, but some things just didn't always feel quite right.