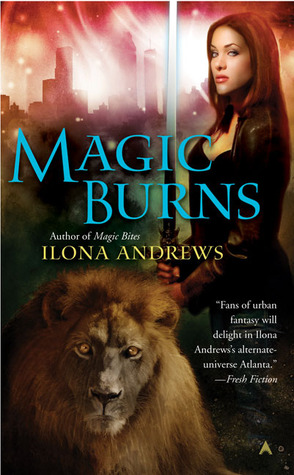 Magic Burns by Ilona Andrews (narrated by Renèe Raudman)
Synopsis from GoodReads:
Down in Atlanta, tempers – and temperatures – are about to flare…
As a mercenary who cleans up after magic gone wrong, Kate Daniels has seen her share of occupational hazards. Normally, waves of paranormal energy ebb and flow across Atlanta like a tide. But once every seven years, a flare comes, a time when magic runs rampant. Now Kate's going to have to deal with problems on a much bigger scale: a divine one.
When Kate sets out to retrieve a set of stolen maps for the Pack, Atlanta's paramilitary clan of shapeshifters, she quickly realizes much more at stake. During a flare, gods and goddesses can manifest – and battle for power. The stolen maps are only the opening gambit in an epic tug-of-war between two gods hoping for rebirth. And if Kate can't stop the cataclysmic showdown, the city may not survive…