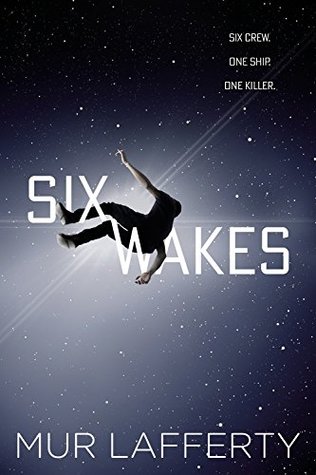 Six Wakes by Mur Lafferty
Synopsis from GoodReads:
A space adventure set on a lone ship where the clones of a murdered crew must find their murderer — before they kill again.
It was not common to awaken in a cloning vat streaked with drying blood.
At least, Maria Arena had never experienced it. She had no memory of how she died. That was also new; before, when she had awakened as a new clone, her first memory was of how she died.
Maria's vat was in the front of six vats, each one holding the clone of a crew member of the starship Dormire, each clone waiting for its previous incarnation to die so it could awaken. And Maria wasn't the only one to die recently…
So that summary is a little bit wrong – clones don't always remember HOW they died because, well, it's a bit difficult to make a mind-map (the tech that takes your memories and saves them for your next clone) when you're in the middle of something like, oh, a war or an assassination or what-have-you.  There are a number of personality-types that prevent you from realizing exactly how you died, in fact, so the summary is a little disingenuous.
But I'll forgive that because I loved this book.
Those who've read my review of Ready Player One might remember that one of my main complaints about that novel was its lack of inter-connectedness to the rest of the VR-focused speculative fiction novels that had come before it.  I was so happy to see that not only does Six Wakes completely avert that problem, but it goes way further than I had dared to hope it would.
Cloning has been at the center of speculative fiction for ages.  Not since what I call the beginning of spec-fic, with Mary Shelley and Jules Verne and H.G. Welles, but long enough that a lot of books involve it, comment on it, and build on it.  Six Wakes is, as the summary implies, deeply interested in the idea of cloning.  And, yes, it does touch on what's been said about cloning before, but mostly that is part of the backstory.  In other words, the history of the world in Six Wakes dovetails with the history of cloning in spec-fic novels.
I love it.  So much.  It's just beautiful that that's how it's handled.  Yes, some of the issues remain present, but that's because of the direction Lafferty takes cloning in her world: given unlimited life-spans with (almost) all of your memories, why not carry grudges and mental issues and whatnot forward with you?
All six characters – well, eight, in a way – are so wonderfully different, fully  fleshed-out, and complete people.  They all have their own problems, and their histories are brought to a boiling point thanks in part to waking up from their murders and in part to the confined space of the Dormire and, of course, their own neuroses and curiosity.  The way that cloning works in Lafferty's world makes it so you could think you're telling the truth when in fact you're lying, and add in the fact that everyone has reasons to lie already…
Yes, there was some heavy foreshadowing with one plot twist in particular, but I actually liked it because it meant I thought I had everything figured out when I really, truly didn't.
My only problem is that there is a moment when Wolfgang fails to check someone for weapons – and that felt very out of character for him, never mind the extenuating circumstances surrounding that moment.  Otherwise, I never felt that anyone acted oddly or held the idiot ball.  After all, if you're convinced you couldn't have killed everyone but someone else did, why would you share information with a potential murderer?
5 out of 5 stars, would highly recommend.